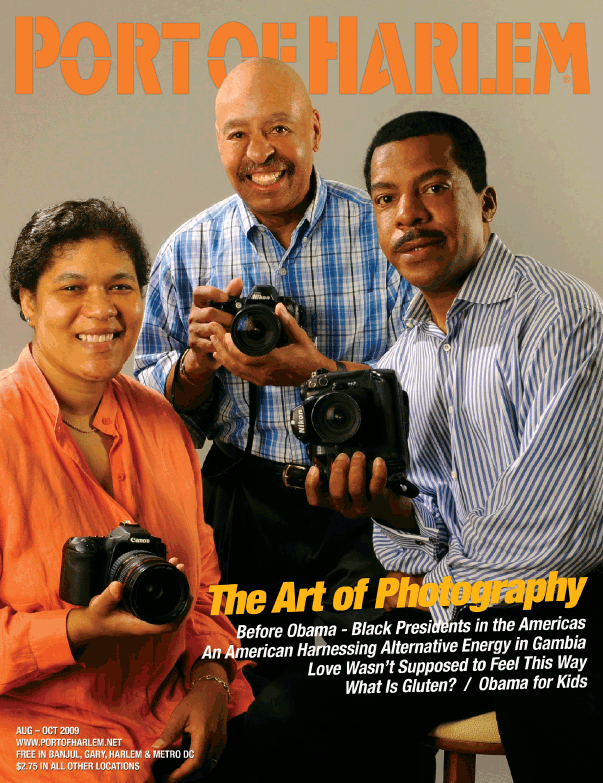 COVER CREDITS


Photo by Jason Miccolo Johnson, a nationally known award-winning documentary, editorial and fine art photographer, and author of Soul Sanctuary, the #1 Christiain photography book in America,


COVER STORIES
20 Mireille Liong-A-Kong


21 Bruce McNeil


22 Jason Miccolo Johnson


23 Camille Moseley-Pasley


Similar to our August - October 2005 issue, this edition features four creative persons. Like champion race drivers sharing their driving skills with an average commuter, these gifted photographers share their secrets in capturing perfect moments.


We feature New York-based Mireille Liong-A-Kong, and Washington-based Bruce McNeil, Jason Miccolo Johnson, and Camille Mosley-Pasley. Johnson and Mosely-Pasley have shot images that have graced our covers.


Unlike singers and dancers, photographers are too often overlooked as contributors to African culture and identities. Port of Harlem is very proud to continue our tradition of highlighting aspects of our lives that many, including ourselves, so often fail to embrace or even appreciate. I hope to see you at the next photography exhibit!


FEATURE
24 Love Wasn't Suppose to Feel This Way

DEPARTMENTS
2 LETTERS TO THE EDITOR


THE PUBLISHER'S POINT
4 Appreciating the Art of Photography


PRAISING THE PAST
5 Before Obama – Black Presidents in the Americas


THE OTHER SIDE
6 Eager to Shine


THE MIDDLE PASSAGE: A STORY OF SURVIVAL
7 My Silent Partner


MONEY MATTERS
8 An American Harnessing Alternative Energy in Gambia


OUR SPACE
10 More than Just a Good Eye


TRAVEL STORY
12 Curacao's African Legacy


HEALTH
14 A Miracle from the Sun


20 What is Gluten?


RECIPE
25 Gluten-Free Apple Pancakes


BOOK REVIEW
26 Obama for Children


COMING UP
27 Bronx Princess, Bill Picket's International Rodeo, Baltimore Book Festival and more


ENTERTAINMENT
28 Bronx Princess