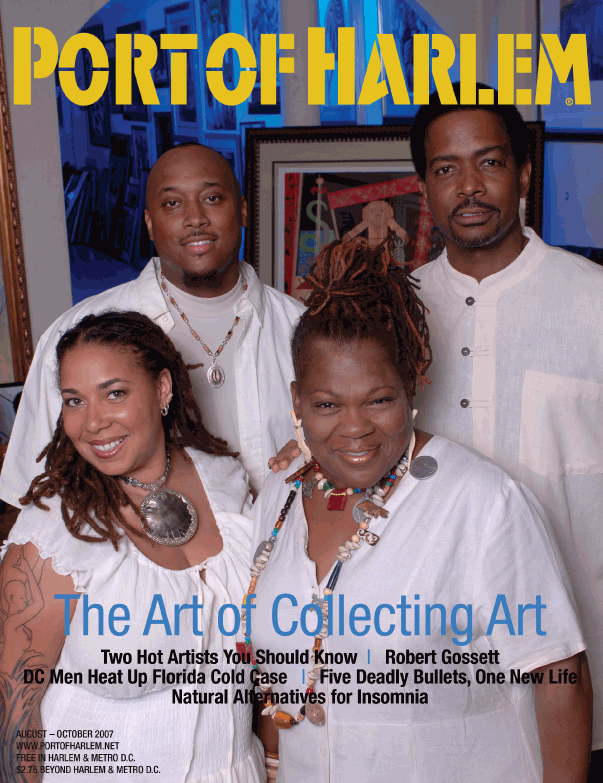 COVER CREDITS


Left to right: artist Alvin Burts, Barry Lester of Attitude Exact Gallery, artist Anike Robinson, and Juanita "BZB" Britton of the Anacostia Art Gallery & Boutique.


Photo by Jason Miccolo Johnson, author and photographer of Soul Sanctuary (Bulfinch Press, $29.85).


COVER STORY
20 Two Hot Artists You Should Know


Annie Lee and Jonathan Green are two of the most familiar, talented and legendary artists of our time. We often buy works created by them simply because they are "brand named." Many of us would appreciate and even consider buying the art created by some of the world's other million or so talented artists if we only knew about their creativity. We talked to two of them, two hot artists you should know.


FOCUS: The Art of Collecting Art

23 Revitalizing Art Consciousness


FEATURE:
24 DC Men Heat Up Florida Cold Case


DEPARTMENTS
2 LETTERS TO THE EDITOR


THE PUBLISHER'S POINT
4 Passion for More than the Aesthetics


PRAISING THE PAST
5 Power in Three Dimensions


THE OTHER SIDE
6 Me and My Journal


THE MIDDLE PASSAGE: A STORY OF SURVIVAL
7 Five Deadly Bullets, One New Life


MONEY MATTERS
8 BZB, The Entrepreneur


OUR SPACE
10 The Art of Living


TRAVEL STORY
12 Midnight Train to Memphis


HEALTH
14 Creative Healing


16 Natural Alternatives for Insomnia


RECIPE
25 Fruited Tea Punch


BOOK REVIEW
26 Color Me Butterfly

COMING UP
27 The Art of Collecting Art Meet & Greet, Women of Brewster Place, and more


ENTERTAINMENT
28 Robert Gossett