Health


Z Gospel and Z Go-Go: The New Face of Fitness!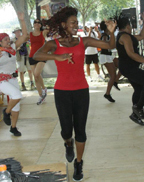 "Down, Down Up. Down, Down Up," members and non-members of Purity Baptist Church shouted to fitness instructors as they performed three squats in a row and returned to a standing position while getting down to R&B artist Ciara's "Gimme Dat."


From the youngest participant, a seven-year-old, to the oldest, my 90-year-old grandmother, the Z Gospel class exercises drenched everyone in the room with sweat. And at the door, some would be participants came to see what the fuss was about and hoped to get enough courage to move and groove to Kirk Franklin's "Before I Die."


What is Z Gospel? It is a new fitness craze sweeping the nation tied to the popularity of Zumba, which has sparked millions of people to get off their bottoms and move and groove to funky Latin rhythms. Some regular Zumba attendees have been inspired to attend training, get licensed and start teaching Zumba in their own communities. Danette Tucker, my sister, is one such instructor. After getting her license, she began creating her own routines to her favorite music genre and DC's favorite, Go-Go. She discovered that others loved dancing to Go-Go as much as she did and developed her own flavor of class, Z Go-Go.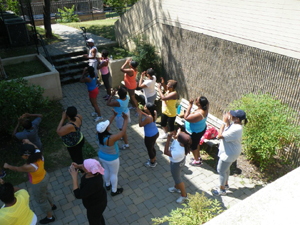 "Much like Beto, the creator of Zumba, we've taken our love for our favorite genres of music, Gospel and Go-Go, and incorporated them into our faith and love for the Lord, all to inspire a dance fitness program that is fun, exciting and a fellowship," says Danette. "Oh! And by the way, we just so happen to be working out while building a sisterhood that will hold us together spiritually as well as physically. It's truly a blessing," she added.


Joining Danette and myself at Purity is our mother, Cynthia. Aside from breaking to care for her children, she has acted on her passion for fitness for a long time. Mom is not only a retired federal government worker, but a licensed Zumba instructor who calls teaching Z Gospel one of her post-retirement accomplishments.


Fitness should be fun and a life-long habit. Age, body size and ability does not matter and should not prevent people from doing some form of exercise. It is all about moving to a better you and a better life.


The Z Go-Go Facebook fan Nikki Hawkins added, "I love Z Go-Go because the dedicated instructors inspire us all to believe in ourselves, see the beauty in ourselves and be the best we can be." Stacey Clark added to the page, "Not only is Z Go-Go fun, but it has improved my health. As of November 30, I am down 36 pounds."


Diabetes, heart disease and obesity are epidemics in the Black community. The prevalence of these diseases signals that the rise of Z Gospel and Z Go-Go fitness classes is right on time. Of course exercise is not the only way to combat diabetes, heart disease and obesity. But, for anyone who needs to workout, Z Gospel and Z Go-Go classes are definitely a place to start for people of all ages, sizes and abilities.