Feature


Building Bridges Instead of Walls
African Americans Working in The Homeland and Diaspora




Since the advent of the infamous Atlantic slave trade, Africans at home and Africans abroad have heard that they do not like each other. Today, the American media continues this disservice by blasting images of sincere European-Americans offering their benevolence to our African family members, but seldom showing African-Americans doing likewise. This paints an inaccurate picture and continues to promote a master-slave, colonial power-colonial subject relationships.



Being a Pan-African magazine, we counter this image with stories and images of African-Americans working with Continental Africans and others in the diaspora.


Ghana, Nigeria, South Africa, Uganda, Haiti, The Dominican Republic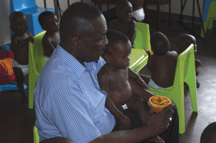 In the past ten years, as founder and president of Royal Ambassadors Ministries (RAM), Dr. Keith Rolle has led the building of two classrooms for parentless children in Uganda, the drilling of three water wells in Nigeria and two in Ghana, purchased two water purifiers for Haiti and another for Ghana. He counts more than 5,000 people as having benefited from a dental clinic in the Dominican Republic, three medical clinics in Ghana, two in South Africa and one in Uganda his group has facilitated.



RAM's next mission trip is February 18-29, 2012 to Johannesburg, South Africa where they will facilitate another medical clinic. They return to Uganda for their every other year visit in June 2013. (1-877-841-2130)


South Africa, Swaziland, Senegal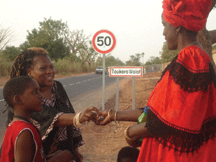 To celebrate her 50th birthday, Juanita "BZB" Britton journeyed to South Africa Swaziland, and Senegal to commit random acts of kindness. The excitement started in South Africa where she rented a small bus and committed her first random act with four women who were walking along a dusty road. She departed the bus, greeted the women and rendered them momentarily speechless when she tearfully pressed $50 into the palms of their hands. They exchanged no words. The expressions of sheer joy and gratitude on the women's faces said it all.



In Spring 2007, she debuted her first film, Random Acts of Kindness, A Documentary of Giving, covering her trip. The film inspires others to give of themselves.


She recently returned from Ghana where Akan (a small ethnic group) King Nana Mosi Botang II installed her as Queen Mother of the Konko Village in the country's eastern region.


Ghana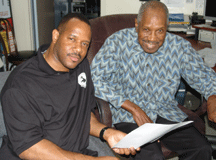 Bryan Oswald Lowe did well investing in New York City real estate. Upon retirement, he sold his holdings and traveled the world, including a stop in Ghana. He fell in love with the Black Star Republic and began going there every year. In 2001, he built a home there and started paying for some of the children's medical care. When one benefactor died while waiting for medical attention, Lowe knew it was time to build a hospital.



Six years later, the Bryan Lowe Orthopedic Hospital opened. Lowe died in 2009, but his son Greg Alexander, now owns the 200 bed, 4.5 million-dollar hospital. Carrying his father's torch has been a challenge for the Atlanta Family Fun Center owner, but he makes it back to Ghana about four times a year.


The Gambia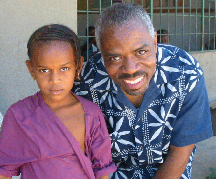 The Port of Harlem Gambian Education Partnership (POHGEP) is the result of a more than two decades old friendship between Wayne Young, the publisher of Port of Harlem, and Suwareh Jabai, a board member of the Nema Kunku Nursery School. Port of Harlem magazine and Snippets readers have sponsored more than 50 children's education at the school since 2002. POHGEP is in the process of gaining 501 status and will begin working with other schools including the Alhaji Mamour Secce Memorial Nursery / Lower Basic School. Sponsorship is only $25 per child per year.



Using its own funds, the magazine has also sponsored a community soccer team, provides historical artifacts to the National Museum and books to the National Library and shows entertaining, but challenging movies at Glory Baptist Church.



Port of Harlem travels to The Gambia via Dakar, Senegal every year. The next trip is March 21 - April 4, 2012.


After 15 years of being a print publication, we are going completely green. Read more stories about the progress and challenges faced by Africans, at home and abroad in Snippets (that we send via e-mail to you) or at PortOfHarlem.Net. Encourage your friends to get Snippets directly by signing up for Snippets today!