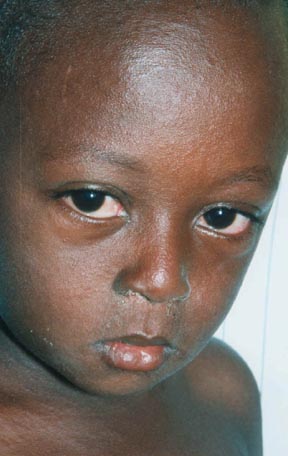 Measles is a highly contagious acute viral illness. An estimated 250,000 people become infected with measles worldwide each year of who 146,000 die. The United States is currently experiencing a national outbreak of measles linked to an amusement park in California. The outbreak started in December 2014 and has spread to more than a dozen other states.
The virus is transmitted by contact with an infected person through coughing and sneezing. The measles virus can remain infectious on surfaces and in the air for up to two hours after an infected person leaves an area.
Illness begins with a fever (as high as 105 F), cough, runny nose, and conjunctivitis (pink eye), lasting 2-4 days prior to the rash onset. The rash usually appears about 14 days after a person is exposed; however, the incubation period ranges from 7 to 21 days. The rash spreads from the head to the chest, arms and mid-section to the legs. Patients are considered to be contagious from 4 days before to 4 days after the rash appears. Measles can cause severe health complications, including pneumonia, encephalitis (inflammation of the brain), and death.
In the decade before the live measles vaccine was licensed in 1963, an average of 549,000 measles cases and 495 measles deaths were reported annually in the United States. However, it is likely that on average 3-4 million people were not reported. Of the reported cases, approximately 48,000 people were hospitalized from measles and 1,000 people developed chronic disability from acute encephalitis secondary to measles.
Encephalitis often results in permanent brain damage.
Sub acute sclerosing panencephalitis (SSPE)
is a rare but fatal degenerative disease of the central nervous system characterized by behavioral and intellectual deterioration and
seizures that generally develop 7 to 10 years after measles infection
.
In 2000, measles was declared eliminated from the United States.
Eliminated is defined as the absence of endemic (native to the US) measles virus transmission in the US for 12 months or longer in the presence of a well performing surveillance system. High population immunity achieved with the measles vaccine was felt responsible for the elimination.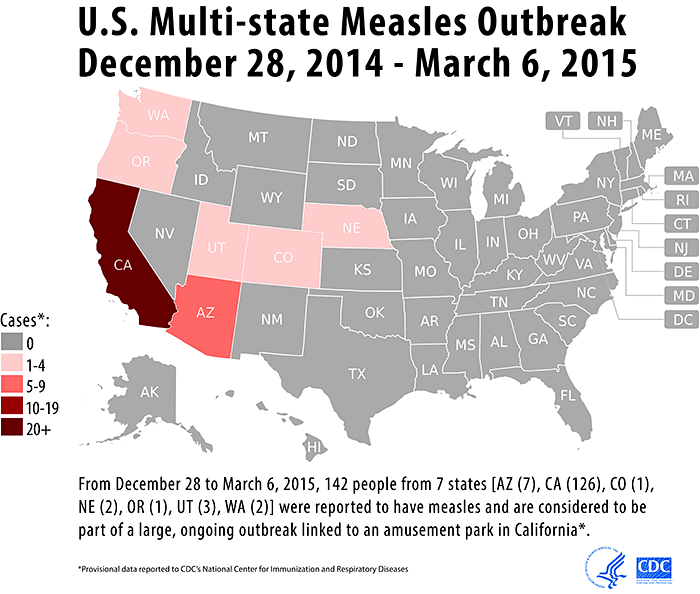 Outbreaks in the United States still occur because measles is still commonly transmitted in many parts of the world. Americans often travel and measles is imported into the United States as a result. The annual number of cases of measles has ranged from a low of 37 in 2004 to a high of 644 in 2014. In recent years, measles importations have come from frequently visited countries, including, but not limited to, England, France, Germany, India, and the Philippines.
Measles is more likely to spread and cause outbreaks in U.S. communities where groups of people are unvaccinated.
Over half of the current outbreak cases in the US (as of the end of 1/15/15) were unvaccinated, one third had unknown vaccination status, and the remaining cases were vaccinated. The age of case-patients ranged from 10 months to 57 years.
People at high risk for severe illness and complications from measles include infants and children aged < 5 years and adults aged > 20 years, pregnant women, and people with compromised immune systems such as from leukemia and HIV infection.
Vaccine Recommendations
CDC recommends routine childhood immunization for MMR (Measles, Mumps, Rubella) vaccine starting with the first dose at 12 thru 15 months of age and the second dose at 4 through 6 years of age or at least 28 days following the first dose.
Students at post high school educational institutions without evidence of measles immunity need two doses of MMR vaccine, with the second dose administered no earlier than 28 days after the first dose.
People who are born during or after 1957 who do not have evidence of immunity against measles should get at least one dose of MMR vaccine.
People who are born during or after 1957 who will be travelling internationally should be protected against measles.
Immunity can easily be determined by a blood test.
Talk to your healthcare provider about your risk of measles in 2015.