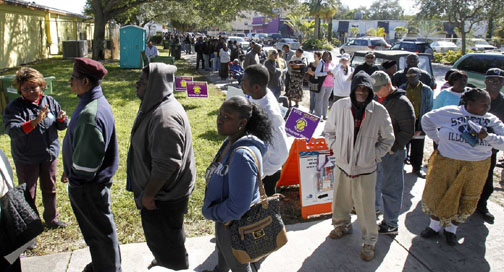 The NAACP participated in a hearing of the United Nations Human Rights Committee that reviewed human rights issues in the United States. In the delegation was ex-convict Desmond Meade, who now is two months away from graduating law school at Florida International University. Yet, he is one of more than 1.54 million Floridians that Florida disfranchises. Florida forces ex-cons to wait either five or seven years after the completion of their sentences and monetary remittance before even allowing them to apply to have their voting rights reinstated. Also part of the delegation was POH Cover model Kemba Smith-Prada.


The NAACP recommended that the:
U.S. Department of Justice vigorously enforce all provisions of federal voting rights laws, including the Voting Rights Act and the National Voter Registration Act.
Federal government actively speak out against restrictive voting laws, including detailing the impact of such laws on minority and other voters and encourage state governments to reform restrictive voting laws.
Department of Justice and the Bureau of Prisons take administrative steps immediately to provide information to incarcerated individuals regarding voting rights restoration upon release and return to their home state. The Democracy Restoration Act would require similar reforms.
Department of Justice require federal prosecutors to provide notice to defendants in federal criminal cases regarding the loss of their right to vote as a result of a plea agreement to a felony or a felony conviction.