Omar Taal was about six-years-old when he first heard his grandfather tell the story of Kunte Kinte, a story that the grandfather later told Alex Haley. Haley would later merge the stories of Taal's grandfather with those passed through Kinte's American-born ancestors to create "Roots," the historical book and movie.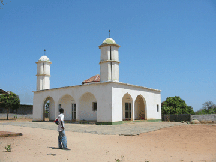 With roosters cockling in the background, we sat in Taal's home as he recited how sad he was upon first hearing the story in 1972. "I felt like a member of our family had been taken away," he said.
As we walked to the mosque that Haley promised to build, but Louis Farrakhan completed, he shared with me that he doesn't ask much of Africans in the disapora, except to
"always remember Africa."
He encourages Africans around the world to at least visit Africa and to get to know the people.
"We cannot move them back," he continued, "they have the same rights to the Americas as the Europeans," he reasoned.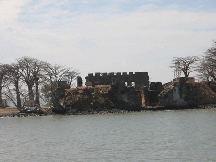 When asked about how much responsibility Africans must take for the slave trade's existence, he insisted that the people of his village were not traders, but were targets of raiders because of the village's proximity to the slave castle on
St. James Island
. He then responded more directly, "We must forgive each other." When asked if the feelings of forgiveness should be extended to non-Blacks he quickly added, "We must forgive, but never forget."
He called on European nations to compensate Africans for causing much of Africa's current problems including the depreciation of the dalasis, the Gambian currency. "They appreciate their money and we have to struggle harder to be able to have (English) pounds," he said.
When I first visited The Gambia in 2001, it took only 16 dalasis to buy to one American dollar. In 2006, it took 26 dalasis to buy one American dollar - - which is good for tourist, but bad for The Gambians.
Join Port of Harlem when we return to The Gambia, Feburary 2007.
Photos:
Top. Descendents of Kunte Kinte Omar Taal of JuffurehThe Gambia and Justina Thompson of Springdale, MD USA meet for the first time. Thompson,a Port of Harlem reader, was on her first African trip.
Middle: The Mosque at Juffureh funded by Alex Haley and Louis Farrakhan.
Bottom: St. James Island where slavers held kindnapped Africans before their voyage to the Americas.