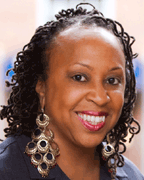 Our Space
Home Designing for Your Soul
By Sherry B. Ways
Home designing is so important in our lives. However, we often get so busy that we fail to fully recognize our surroundings until they don't serve our needs and feed our soul.
In this living room, I accented the existing furniture with naturally inspired bamboo pillows, a natural jute rug and a tropical inspired accent lamp to reflect the client's love for traveling to tropical places. With her artwork and memorabilia, I adorned her walls.

To allow my client to enjoy her backyard and to allow the outdoor feeling to come into her home, I accented the sliding glass door with brown and beige sheers wrapped around its frame. Plants and nature are always a calming influence, so I took advantage of the open sliding glass view and placed plants in the living area.
As an interior designer, one of my greatest joys is helping you discover your style and having you say how much you love your new living room, bathroom, kitchen, or any other room in your home because you feel warm, comfortable and happy in that room.
Yet, interior design can be an afterthought for the chronically busy and priority-driven. When you really think about how important it is to your well-being, home designing becomes more of a priority.
I often meet people who need more than new window dressings. They often need clarity in understanding and assistance with discovering how thorough decorating and arranging their home can lead to a more exciting and fulfilling life.
If your home does not refresh you the minute you walk in the door, take the following free assessment, read about the possibilities for you home and start making plans to design your home for your soul.








ASSESSMENT
Answer the following questions about you and your home:
Does your home look and feel the way you'd like it to?
Do you see furnishings that long ago passed their expiration date?
Would you like your home to become more "green," which not only positively affects the environment but also saves you money?
Does your home give you energy or does it deplete you of energy?
Are there ways you can make your home beautiful?
Do you feel you'd like to have a space in your home that gives you more energy?
Do you feel you'd like a space in your home that allows you to feel more peaceful?
If you answer yes to any of these questions, we have work to do and you should read on.
ENVISION YOUR POSSIBILITIES
Ask yourself the following questions:
What do I need to change now that I have an idea of how I want my home to look and feel?
Why does that room (s) bother me?
What paint colors would be more pleasing to me?
Why isn't the current furniture placement working for me?
What could be added or what could be subtracted from this space to alleviate a cluttered look?
Do I need more texture and pattern to make my room(s) come alive?
What other things can I do or change to make my home more pleasing and supportive?
THE PLAN
Once you have an idea of what changes you'd like to make, choose three of them. Then choose just one of them. This is where you'll start to design your home for your soul.