Nicolas Troy Abrams contributes mainly to Port of Harlem's "Money" department.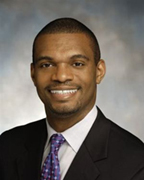 Nicolas Troy Abrams, a Certified Financial Planner ™Professional, is founder and CEO of AJW Financial Partners, LLC. His wealth management and financial planning firm has offices in Columbia, Maryland and Washington, DC. With more than 15 years of experience in the financial services industry, Abrams advises clients on investment, retirement, and insurance strategies.
He is a regular guest on Morgan State University's WEAA (Baltimore 88.9 FM) Wealthy Radio. He is the former host of Radio One's WOLB (Baltimore 1010 AM) The 1st Friday Radio Show, which focused on economic empowerment and wealth creation. He has been a guest on National Public Radio's Market Place. Local and national conferences, including the Maryland Black Caucus Foundation Legislative Weekend, have also featured Abrams as a speaker on money and financial issues.
One of his favorite quotes is from Harriet Tubman: "Every great dream begins with a dreamer. Always remember, you have within you the strength, the patience, and the passion to reach for the stars to change the world."