Carroll C.R. Gibbs contributes to
Port of Harlem's Praising the Past department.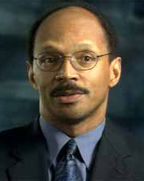 He is the author/co-author of six books and a frequent national and international lecturer on an array of historical topics. He has appeared several times on the History Channel and French and Belgian television. He wrote, researched, and narrated Sketches in Color, for WHUT-TV, the Howard University television station. "Sketches in Color," is a 13-part companion series to the acclaimed PBS series, The Civil War.
The Smithsonian Anacostia Community Museum features Gibbs on its Online Academy website. He is also a D.C. Humanities Council scholar. In 1989, he founded the African History & Culture Lecture Series whose scholars provide free presentations at libraries, churches, and other locations in the Washington-Baltimore area.
In 1997, he led 26 people across the African continent. He won the 2008 Award for Excellence in Historic Preservation in Public Education, given annually by the Mayor of the District of Columbia. In 2009, the Congressional Black Caucus Veterans Braintrust honored Gibbs for his more than three decades of articles, exhibits, and presentations on the military heritage of Africans and African Americans.
In 2011, he provided historical commentary for WUSA-TV, Channel 9's coverage of the dedication of the King Memorial. In February 2013, he also appeared in the PBS documentary, Meet Me at Equality on the 1963 March on Washington. That same year, Gibbs also spoke at the annual observance of International Emancipation Day in Toronto, Canada.

In 2014, the National Civil War Project featured Gibbs as a speaker at an event sponsored by Arena Stage and George Washington University. Also in 2014, the Washington Informer newspaper chose Gibbs as one of the 50 most influential people in Washington, D.C.

In 2015, Zindagi 360, a fast-paced lifestyle and entertainment show that the Voice of America aims at young Pakistanis, featured a presentation by Gibbs.
Print - Port Of Harlem
November 2011 - April 2011 Print Issue
Blacks and the Sport of Kings
06/14/12 - 06/27/12
The War of 1812: a Black Bicentennial perspective

02/07/2013 - 02/20/13
The Way We Were: The Emancipation proclamation in the DMV

05/30/13 - 06/12/13
A Rare account of Nat Turner's Rebellion
07/11/13 – 07/24/13
The Unheralded Black presence at the Battle of Gettysburg

02/06/14 - 02/19/14
Africans' Role in the First World War

09/04/14 - 09/17/14
African Americans & WW 1

02/05/15 - 02/18/15
Young, Black, & Presumed Guilty:
The Historical Burden of Being Prejudged a Menace to Society

11/12/15 - 11/25/15
Black, Brave, & Bold Part 1 - African American Congressional Medal of Honor Winners

12/24/15 - 01/06/15
Black, Brave, & Bold Part 2 - African American Congressional Medal of Honor Winners - The Indian Wars & The Interim Period

02/04/15 - 02/17/16
Black, Brave, & Bold Part 3 - African American Congressional Medal of Honor Winners - The Spanish-American War & World War I

04/14/16 - 04/27/16
Book Review: The Roughest Riders

06/09/16 - 06/22/16
Black, Brave, & Bold Part 4 - African American Congressional Medal of Honor Winners – World War II & Korean War

Print - Other
Introducing Everyday Women Who Helped
Change America (article from SoMdNews on Gibbs)
The Washington Post - C.R. Gibbs helps to judge the annual Frederick Douglass Oratorical Contest

The Washington Post - Kwanzaa's values a growing part of D.C. congregation's
cultural fabric
The Washington Informer - Researcher Opens Window to Lost History
September 18, 2012
Gallludet University - Gibbs recounts path from slavery to emancipation in D.C. at Gallaudet University.
Video
Video Urban Renewal, Negro Removal (Georgetown, DC History) Co-narrated by
C.R. Gibbs
August 2013
WHUT-TV Special Meet Me at Equality

July 12, 2014
Washington's Civil War Forts and Parks
(click Video Playlist on the right)

November 20, 2013
Post Panel Discussion on Family & Memory (premiere of Ada M. Babineaux's documentary, I Don' Been Through The Snake's Skin & Come Out Clean), WDC

June 19, 2015
WUSA-TV Juneteenth, After Charleston Massacre
Sep 12, 2015
Zindagi 360 (Life 360) - The Voice of America's Urdu TV - Pakistan (Gibbs start about 18:45 minutes into the show)
Feb 14, 2016
Jim Crow Freedoms Deferred CH50 - Washington, DC
Jun 10, 2016

Zip Trip Anacostia: The History of the Neighborhood
Audio
The History Channel - How The States Got Their Shapes. C.R. Gibbs and D.C. Shadow Representative Mike Panetta talk about the District's borders and voting rights.
June 19, 2013
Joe Madison Show - SiriusXM (Talks about Juneteenth)
June 9, 2014
Make It Plain - SiriusXM (Talks African American Soldiers and the D-Day Invasion: 70 Years Later & the Truth Ain't Being Told)

March 10,
C.R. Gibbs Speaks to the Civil War Roundtable of DC on the 1st Regiment United States
Colored Troops

Dec 22, 2014
WAMU The "Great War" – Historic Moments, Forgotten Fighters

August 4 – August 17, 2016
Black, Brave, & Bold Part 5 - African American Congressional Medal of Honor Winners - Vietnam War To The Present


Sat, Sep 10, 2p-4p
Maryland & The Underground Railroad
Accokeek Branch
15733 Livingston Road
CR Gibbs

Sat, Sep 17, 2p-4p
Science in Ancient & Medieval Africa
Accokeek Branch
15733 Livingston Road
CR Gibbs

Tue, Sep 20, 7p
The Wilton Triangle's Civil War, A Forgotten Chronicle of North Carolina
Greenbelt
Marvin Jones

Sat, Sep 24, 2p-4p
From Black Cargoes to Black Lives Matter: A Brief History of African American Protest
Accokeek Branch
15733 Livingston Road
CR Gibbs
Tue, Sep 27, 7p
John Henrik Clarke: High Priest of Black History
Greenbelt
CR Gibbs

Tue, Oct 4, 7p
Before Emancipation: Slavery & Freedom in the District of Columbia, 1790-1862
Greenbelt
CR Gibbs

Tue, Oct 11, 7p
Let Your Motto Be Resistance: Great Slave Revolts
Greenbelt
CR Gibbs

Tue, Oct 18, 7p
1866: A New Birth of Freedom
Greenbelt
Asa Gordon




Back to Contact Us
Wed, Oct 19, 7p
Unbroken Bonds: The African Origins of Fraternities, Sororities, & Other Organizations
Woodbridge
CR Gibbs

Tue, Oct 25, 7p
Grand Theft Africa: The Original Scramble for A Continent
Greenbelt

Sat, Oct 29, 1p
A Hard Road to Freedom: The Civil War, African Americans & Emancipation in Maryland
The Reginald F. Lewis Museum of Maryland African-American History & Culture
830 E Pratt St
Baltimore, MD
CR Gibbs

Tue, Nov 1, 7p
African Americans in the Old West
Greenbelt
CR Gibbs

Tue, Nov 8, 7p
Ancient Nubia: Black Lords of the Nile
Greenbelt
CR Gibbs

Tue, Nov 15, 7p
From Black Cargoes To Black Lives Matter: A Brief History of African American Protest
Greenbelt
CR Gibbs

Wed, Dec 21, 7p
Africa, Black America, the Caribbean, & World War II
Woodbridge
CR Gibbs