Carroll "C.R." Gibbs contributes to
Port of Harlem's "Praising the Past" department.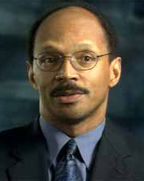 He is the author/coauthor of six books and frequent national and
international lecturer on an array of historical topics. He has appeared several times on the History Channel, French and Belgian television, and wrote, researched and narrated "Sketches in Color," a 13-part companion series to the PBS series, "The Civil War," for WHUT-TV, the Howard University television station.

The Smithsonian Institution's Anacostia Museum and Center for African American History and Culture features Gibbs among its scholars at the museum's Online academy website. In 1989, he founded the African History and Culture Lecture Series whose scholars continue to provide free presentations at libraries, churches, and other locations in the Washington-Baltimore area. In 1997, he led 26 people across Africa.

In 2009, the Congressional Black Caucus Veterans Braintrust honored Gibbs for his more than three decades of articles, exhibits and presentations on the military heritage of Africans and African Americans.
2014 On Freedom's Trail Bus Tour
Sat, Mar 8; Sat, Apr 26; Sat, May 10, and Sat, Jun 14,10:30a. - 2p, free

Anacostia Museum
1901 Fort Place SE
Washington, DC 20020

reservations: 202-633-4300

(for ages 16 to adult) What was it like for black Americans living in the area in December 1862? War had come, and no city south of the Mason-Dixon Line except Washington, D.C., enjoyed the spirit of freedom for all of its citizens.

Join historian C.R. Gibbs in examining examples of Black enterprise, organization, and community spirit in the District, Alexandria in Virginia, and Prince George's County in Maryland.


Tue, Mar 11, 7p
MLK,Jr. Library
9th & G Sts NW
Harriet Tubman:
In Celebration of a Soldier
CR Gibbs & Others

Sat, Mar 15, 11a
PD Brown Library
Charles County,MD
Bold Soul Sisters: Black Women
Activists of the 19th & 20th Centuries
CR Gibbs
Tue, Mar 25, 6p
Benning Library
3935 Benning Rd NE
Great Black Women
CR Gibbs

Sun, Mar 30, 9a
Shiloh Baptist Church
9th & P Sts NW
The N-Word: Its Origins & Evil Uses CR Gibbs
Thu, Apr 10, 8a
Gallaudet University
800 Florida Avenue, NE
Brentwood Road: Highway To History
CR Gibbs
Fri, Apr 11, 2p
Frederick Douglass Home
14th & W Sts SE
Twelve Years A Slave:
Solomon Northup's Washington
CR Gibbs



Back to Contact Us
Tue, Apr 15, 7p
Greenbelt Library
Crossroad of Destiny: World War 1
& The African Diaspora
CR Gibbs
Tue, Apr 29, 7p
Greenbelt Library
Twelve Years A Slave:
Solomon Northup's Washington
CR Gibbs

Tue, May 13, 7p
Greenbelt Library
African Americans Teens
in the Civil Rights Movement
CR Gibbs

Tue, May 20, 7p
Greenbelt Library African
Origins of Christianity
CR Gibbs

Tue, May 27, 7p
Greenbelt Library
The Secret History of Juneteenth
CR Gibbs

Sat, Jun 21, 2p
Oxon Hill Library
6200 Oxon Hill Rd
Black Beauty: The African Roots of Fashion & Style