Carroll "C.R." Gibbs contributes to
Port of Harlem's "Praising the Past" department.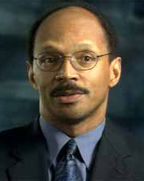 He is the author/co-author of six books and a frequent national and international lecturer on an array of historical topics. He has appeared several times on the History Channel and French and Belgian television. He wrote, researched, and narrated "Sketches in Color," for WHUT-TV, the Howard University television station. "Sketches in Color," is a 13-part companion series to the acclaimed PBS series, "The Civil War."
The Smithsonian Anacostia Community Museum features Gibbs on its Online Academy website. He is also a D.C. Humanities Council scholar. In 1989, he founded the African History & Culture Lecture Series whose scholars provide free presentations at libraries, churches, and other locations in the Washington-Baltimore area.
In 1997, he led 26 people across the African continent. He won the 2008 Award for Excellence in Historic Preservation in Public Education, given annually by the Mayor of the District of Columbia. In 2009, the Congressional Black Caucus Veterans Braintrust honored Gibbs for his more than three decades of articles, exhibits, and presentations on the military heritage of Africans and African Americans.
In 2011, he provided historical commentary for WUSA-TV, Channel 9's coverage of the dedication of the King Memorial. In February 2013, he also appeared in the PBS documentary, "Meet Me at Equality" on the 1963 March on Washington. That same year, Gibbs also spoke at the annual observance of International Emancipation Day in Toronto, Canada.

In 2014, the National Civil War Project featured Gibbs as a speaker at an event sponsored by Arena Stage and George Washington University. Also in 2014, the Washington Informer newspaper chose Gibbs as one of the 50 most influential people in Washington, D.C.
Sat, Feb 28, 2:30p
Missing Soldiers Office
Nat'l Museum of Civil War Medicine
437 7th St NW (7th & E NW)
Black, Copper, & Bright : DCs Black Civil War Regiment
CR Gibbs

Tue, Mar 3, 7p
Greenbelt Library
Benjamin Banneker & The African Roots of
His Science
CR Gibbs

Wed, Mar 4, 7p
Woodbridge Library
Courage for the Struggle: African-Amercans and
the Vote
CR Gibbs

Thu, Mar 12, 7p
St. Paul's Episcopal Church
2430 K St NW
The Underground Railroad in DC, MD, & VA
CR Gibbs
Sat, Mar 21, 10a
Lecture/Tour Anacostia, African Americans,
and The Civil War
Anacostia Community Museum
1901 Fort Place, SE
CR Gibbs

Mon, Mar 23, 7p
Height Benning Library
3935 Benning Rd NE
African American Heroines of the Civil War
CR Gibbs

Tue, Apr 7, 7p
Greenbelt Library
To Go Boldly: The History of Black Exploration
CR Gibbs
Tue, Apr 14, 7p
Greenbelt Library
Frances Ellen Watkins Harper: Harriet Tubman's Homegirl
Lavonda Broadnax



Back to Contact Us
Tue, Apr 21, 7p
Greenbelt Library
Death or Freedom: The End of the Civil War & The Coming of Reconstruction
CR Gibbs
Tue, Apr 28, 7p
Greenbelt Library
A Dawn Like Thunder: Africa, Black America, & World War II (70th Anniversary).
CR Gibbs
Tue, May 5, 7p
Greenbelt Library
African Americans in the Old West
CR Gibbs
Tue, May 12, 7p
Greenbelt Library
A Season of Courage: Black & White Southerners Who Fought for the Union in the Civil War
Asa Gordon
Tue, May 19, 7p
Greenbelt Library
Black Genealogy 101
CR Gibbs
Tueday, May 26, 7p
Greenbelt Library
The Civil War Defenses of Anacostia: Sentinels of Freedom, The Forgotten Story.
CR Gibbs
Sat, May 30, 1030a
African Americans & World War 1
Anacostia Community Museum
1901 Fort Place, SE
CR Gibbs